The keystone in which CBL builds on, research and development is a large part of what we do. R and D includes:
Identify new raw materials and untapped potential
Develop unique machinery and methods to acquire the raw material
Research raw product refinement, drying, extraction and modification processes
Improved quality and manufacturing systems and transportation systems
Design and implementation of training, auditing and certification programs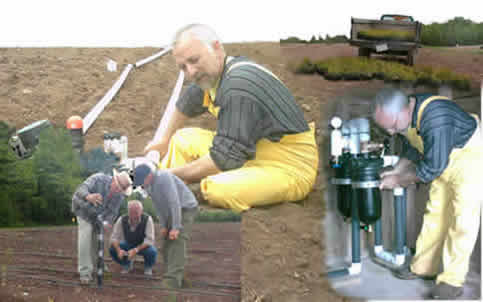 Plantations
CBL is currently supporting 4 million dollar research project with Canadian Forestry Services - Atlantic Forestry Center to develop 'elite' Canada yew plants that grow quickly and produce high levels of taxanes. Some initial plants have been used to establish the first commercial Canada yew plantation. In the spring of 2004, 60,000 rooted cuttings were planted at our Grand Lake plantation site in NB. In the Spring of 2005 another 2000,000 'elite' plants with PAC levels of up to 900 ppm were brought to Zelenka nurseries in Michigan. Plantation sites have been selected for specific growing conditions. All plants have been genetically selected for exceptional growth and paclitaxel levels.
To view a video presentation of CBL plantations
click here
.
To view a slide show presentation please
click here
.
Sustainable Harvesting


Our research and development regarding sustainable harvesting has been focused on Canada Yew, a unique species found only in site-specific areas mainly in Eastern Canada. Canada yew is used in advance cancer treatments and is Chatham Biotec Ltd main source of sales.

Canada yew is required as a natural pharmaceutical ingredient to be harvested in a sustainable manner by most countries. In order to prove any ingredients, sustainability strict guidelines must be in place, CBL has traceability of its Canada yew from site of harvest to finished product including quality reports and third party auditing.

The following files are sources of information related to sustainable harvesting of Canada.